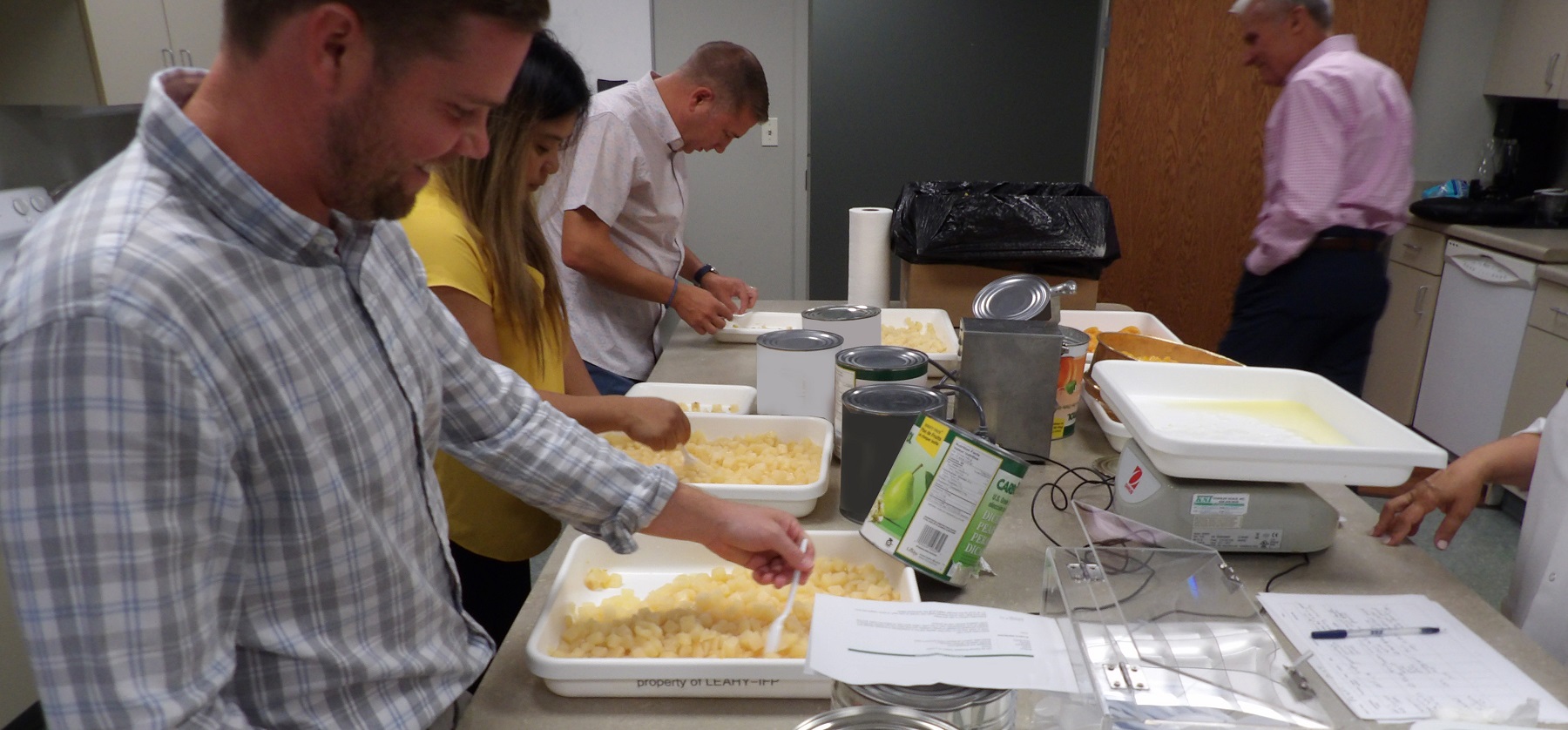 Reading Time: 10 minutes
By: Tara Jewell, Marketing Insights Associate
---
In this article, you will find:
The importance of conducting competitive fruit cuttings

Why we document and share the results of our cuttings

How we collaborate to create the best products possible
We've previously talked about the Leahy-IFP fruit cutting process with QA technician Renata Schaad. During the course of that process, we measure our own products against our own specs. It's a painstaking effort, and our quality assurance team is meticulous in its analysis of every product that comes across its lab table.
But we also want to know how we stack up against our competitors. In order to do that, we've started to do quarterly fruit cutting of our Carbotrol® and Lovin' Spoonfuls™ canned fruit measured against the same products being put out by our biggest competitors.
During this process, it's not just our QA team in the lab. We also include sales, sourcing, and marketing.
---
Who is included in Quarterly Fruit Cuttings:
Josh Martina, Fruit Sourcing Manager: Josh is the expert in all things regarding fruit procurement. He knows what each supplier is going to provide Leahy from a booking standpoint, and he can find alternate sources if we know we're going to run short of our needs. Through the fruit cutting process, Josh also seeks to validate that our suppliers are delivering on their promises.
Matt John, National Sales Manager: Matt has a hand in every national account for our business. He knows the expectations of our customers and works with the entire Leahy sales team. With this kind of understanding of both ends of each transaction, the knowledge he brings to the cuttings about prospects is priceless, but so too is the data he brings back to his team after the cutting is done.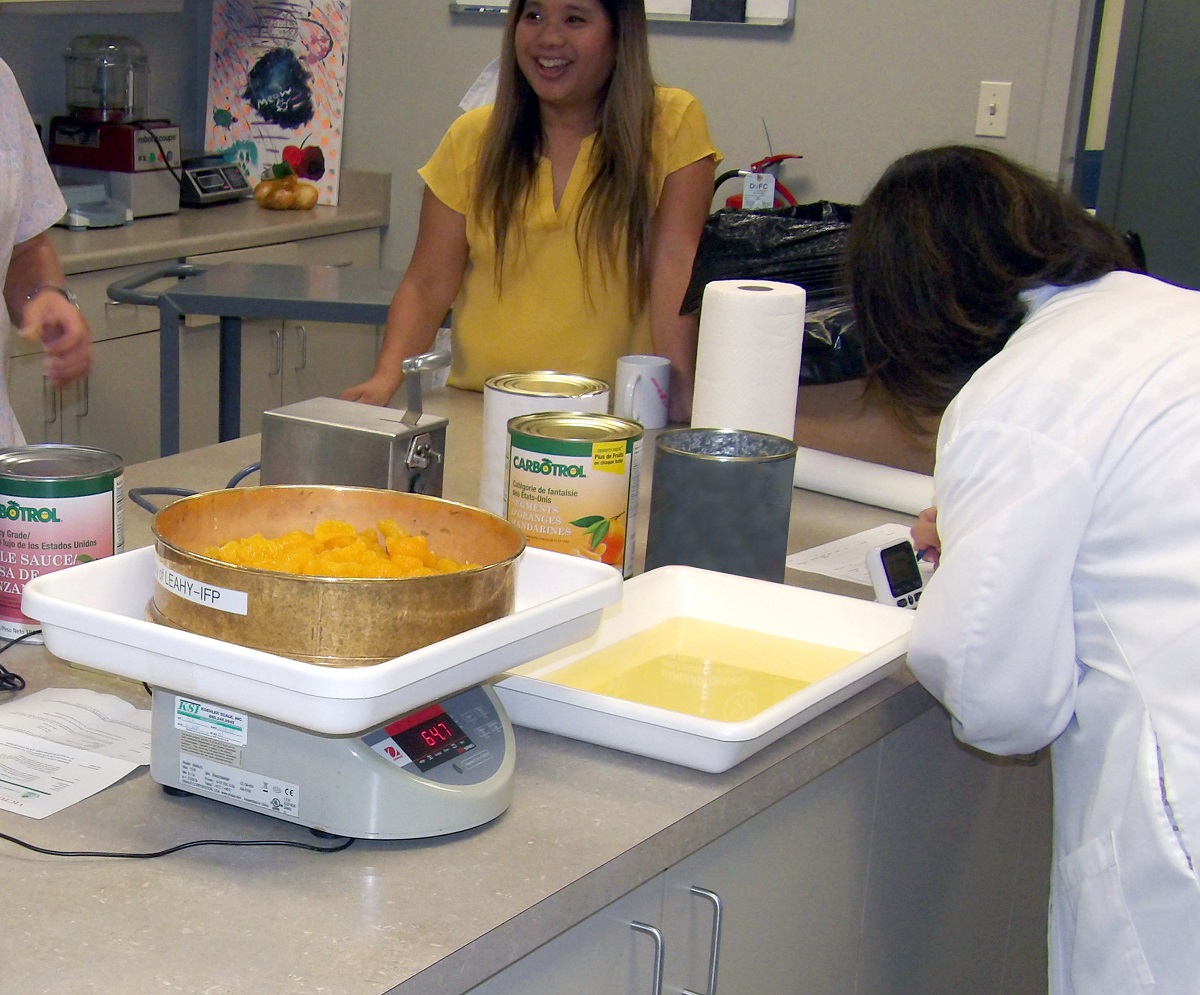 Varris Holmes, Marketing Manager: At Leahy, a big part of Marketing's role is to support sales. Varris helps take photos and collect data during the cutting. Then he works with other members of the marketing team to put it in a format that's easy for our team, customers, and prospects to understand.
Leahy has always conducted fruit cuttings, but it wasn't until recently that the team decided to do them quarterly and standardize the whole process.
"We used to do cuttings in the office ad-hoc. That was useful for us internally, but it's really powerful to do it consistently against our top competition and be able to share it with prospects and GPO customers," Matt John said. "We can see year-over-year what our fruit is looking like compared to our competitors in terms of the number of servings, taste, color, etc."
Agricultural products bring new challenges with every harvest, so Josh said it's important to stay informed about quality. Collective quantitative data is useful to him because it helps him identify shortcomings that need to be addressed with suppliers.
"Many of our suppliers run their facilities 24/7 during the season. Therefore, many of our higher volume items may be run for several days/weeks over the course of dozens of shifts," Josh said. "The quantitative data we record during these internal cuttings tells us of any shortcomings during the season that need to be addressed."
---
Each person involved in the fruit cutting process uses the data slightly differently.
Matt sees that data as being a persuasive tool for the sales team. "Our team can show our customers how many servings they'd save over years of buying our fruit. It's not just a few cans here or there," Matt said. "The quarterly cuttings really give us the opportunity to show our customers the consistent value of our brand."
Factors such as droughts, floods, and temperature variations can have an impact on the raw materials prior to harvest. Therefore, Josh said the cuttings help him assess whether we've adequately prepared for those conditions impacting the supply.
"Going into production, we track market conditions and crop reports which give us a general idea of what to expect for any given item," Josh explained. "The results of the cuttings help us validate that we have addressed these issues with our suppliers prior to production and that ultimately the product produced for the Carbotrol® brand meets our specifications.
Matt and Josh both said that customers want to be confident that, when they open a can of Carbotrol®, they are getting the best possible product. Features like taste, texture, and uniformity matter a great deal to our customers.
Josh also noted the importance of consistent brix levels. "Leahy was the first company to pack fruit in natural juice with no sugar added so that the sugar level in our product is consistent with a piece of ripe fruit," Josh said. "This allows for our fruit to be served to those on both restricted (for example, those with diabetes) as well as non-restricted diets."
Ultimately though, all Leahy customers are equally focused on value. They want as many servings as possible from the products they are putting in front of their customers. Therefore, making sure that each can of Carbotrol® meets our Density Pack™ Spec is extremely important.
"Simply stated, Carbotrol® specifications require that not only does our fruit meet strict quality specifications but that there is MORE of it in a can of fruit," Josh said. "We use USDA drained weight procedures to test the amount of fruit packed in our cans after the liquid has drained."
Matt agrees. "When it comes down to it, our customers really want to see that buying Carbotrol® fruit is cost-effective," he said. "Our customers can taste our fruit and know it's delicious, but gathering quarterly data also lets us demonstrate that Carbotrol® is also a great value."
---
You might be wondering where Marketing comes in.
Well, as is often the case with our team, what we do is in the background.
It's important that first we organize all the data and imagery. Then we can determine what info is crucial for sales to utilize with prospective and established customers.
"During the cutting, Renata tracks a lot of very specific data that is highly important to her work, but some of that is either confidential or too detailed for outside parties," Varris said. "It's our team's job to make sense of it all."
Once the areas of comparison are established, Marketing will work with our graphic designer, and play around with some ways to make this information visual and easy to comprehend.
"Our work for this specific project, and other projects in general, needs to be visually interesting, highly informative, yet easy to digest," Varris said. "Sometimes it's a back-and-forth process among sales, marketing, and our designer, but together we are able to successfully hone our message."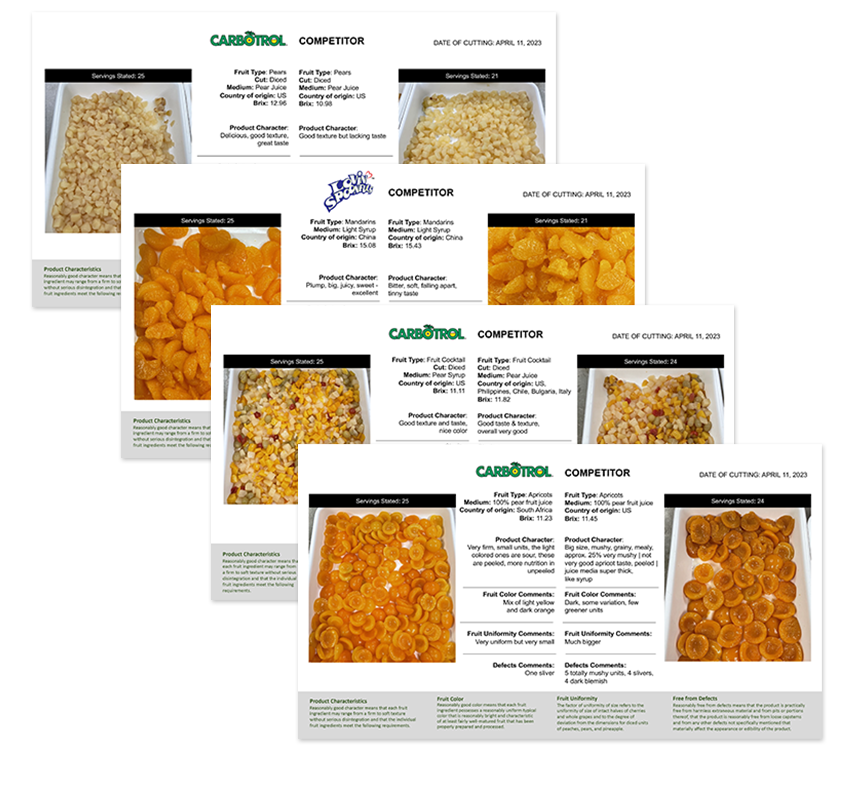 At Leahy-IFP, we are committed to making a more fruitful life for everyone. This is far more than a slogan or catch-phrase, it's a serious pledge to take the steps that are necessary to ensure our products are the best they can be and live up to the high standards we set, and our customers expect.