Reading Time: 5 minutes
By: Mike Leahy, Chief Executive Officer
---
In this article, you will find:
How Leahy-IFP is strengthening employee engagement

The importance of a culture based on shared values

Why we are investing in ourselves for a better future
As we look to new ways of working post-COVID-19, it brings to mind how important employee engagement is to building a great company culture.
Creating a sense of belonging, fostering teamwork, and boosting morale are foundational elements to accomplish this. When our team feels connected to their colleagues and company, they are more likely to bring their A-game, collaborate effectively, and possess a sense of association that fuels their productivity.
Leahy-IFP continues to focus on elevating our workplace culture and enhancing meaningful connections among our team.
So, what is Leahy doing to strengthen employee engagement?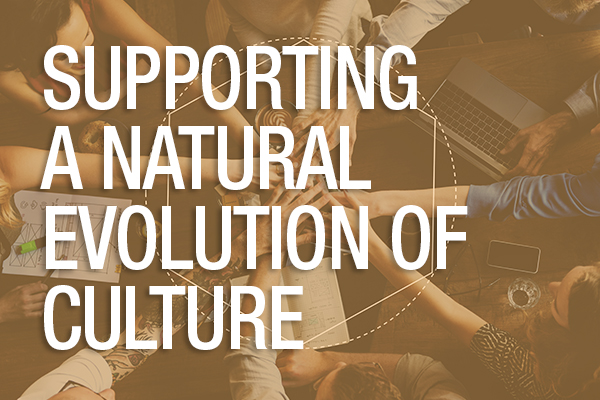 We are supporting a natural evolution of culture and connection with our entire team
We need to look beyond surface-level initiatives that give the appearance of employee engagement.  True connection and engagement cannot be faked or forced. Instead, Leahy-IFP is creating a culture that includes open communication, collaboration, and respect for each individual's unique talents and contributions. We work towards transparent and clear communication of our goals as well as the achievements or challenges associated with each.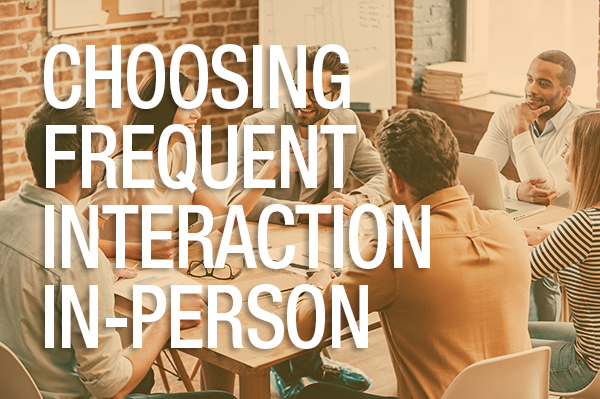 We are choosing frequent interaction in an in-person environment
Leahy-IFP has elected to take a hybrid model of remote work and in-office work. The primary goal here is to create an atmosphere of frequent interaction, face-to-face collaboration, and a flexible work environment. With a young and thriving team, Leahy's leadership believes that a combination of remote and in-person interaction provides flexibility for everyone, but also creates a level of personal engagement necessary to foster growth and a stronger culture. Culture, mentorship, and team collaboration cannot be developed via Zoom. Although the digital arena has made it easier to work remotely, it also presents challenges for true collaboration and employee connection.
Leahy's leaders help create trust and camaraderie by having regular in-person conversations and showing a genuine interest in each employee's work and off-work lives.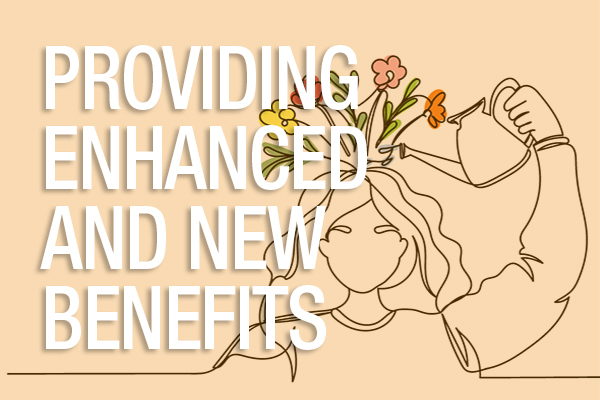 We are providing enhanced and new benefits
Leahy's values are essentially the organization's DNA. They help differentiate our business from the competition and no important business decisions can be made without keeping them in mind.
Leahy's board of directors and key leadership have evaluated what we can do over and above the current benefits we offer, to build upon the current workplace environmental changes and enhancements. Essentially, we asked: what can we do to provide a series of benefits that goes beyond a typical corporate offering and that looks to some of the personal goals of Leahy-IFP team members?  The result of this assessment was the decision to enhance a series of existing benefits as well as create a series of new ones: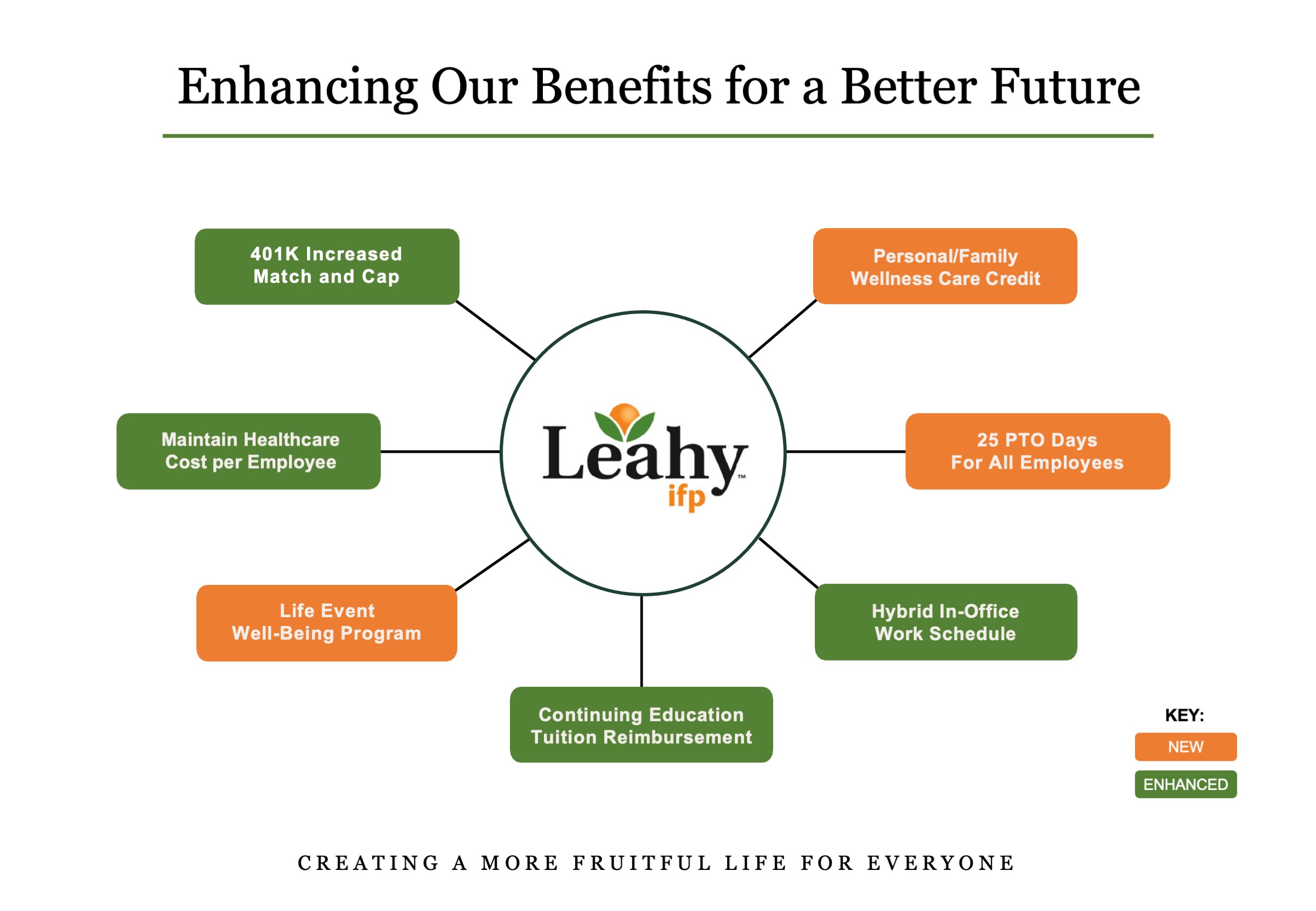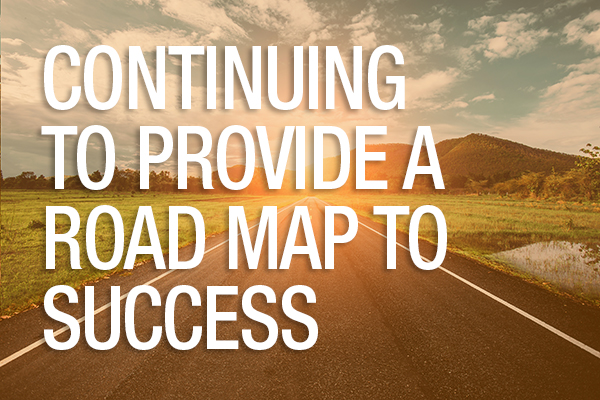 We are continuing to provide a road map to success
Having goals in place is essential for objective setting in an organization. By setting specific, measurable, attainable, relevant, and time-bound goals, the entire organization continues to achieve a dynamic and fruitful connection that fosters growth and productivity.
Our most important goal has been to provide a clear roadmap for employees – reducing ambiguity and confusion to allow for a sense of direction and purpose. We continue to foster a sense of ownership and accountability by empowering employees to take ownership of their work and be proactive in achieving their objectives. By aligning their goals with those of the company, employees can feel more connected to the organization and more invested in its success.
Leahy-IFP also has explored the potential downsides of not meeting select goals. With that in mind, the organization encourages a continual review of progress, taking a proactive approach to each goal. Our planning process has components that create a vision of what lies ahead when we are successful, or when we have challenges. We ask managers and staff to determine potential roadblocks and find ways to address them in order to stay the course. With a rapidly growing business, much of this is a balancing act. Visualizing challenges and simulating how we can positively respond, makes those roadblocks less of a hindrance to the organization's productivity. "Setbacks and challenges as opportunities for growth and learning."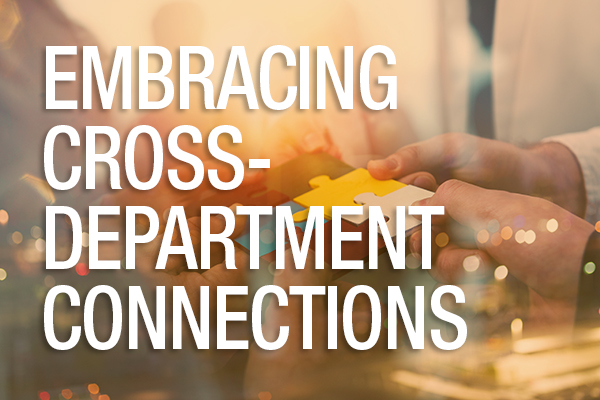 We are embracing cross-department connections
Embracing cross-department collaborations has been a powerful way to create a stronger workplace culture. In our eyes, fostering strong employee connections, encouraging creativity, and enterprise-level collaboration all help to fuel productivity.
Over the past few years, Leahy-IFP has been actively breaking down silos and promoting collaboration.  Our target has been to build a dynamic and engaged workforce that can tackle complex challenges easily. It has been, and will continue to be, our belief that this is one of the core drivers in our organization's productivity and thriving culture.
We are investing in ourselves to grow
Lastly, Leahy has invested in creating a workplace that will allow for even greater collaboration. With a new 9000sq/ft. expansion of our corporate office, our intent is to create a more interactive and collaboration-friendly working environment. From additional private meeting spaces to open-concept workstations, and enhanced video conferencing to larger group meeting spaces, all of these improvements are intended to promote cross-department interaction.
Leahy-IFP is excited about what the future brings. We continue to grow at a record rate, and encouraging a dynamic and forward-thinking culture is paramount to the company's success. With growth comes opportunity and challenges.
The more we work towards engaging our team and cultivating a welcoming, nurturing, and productive workplace, the more certain we feel about what lies ahead for the Leahy-IFP team!