Reading Time: 10 minutes
By: Varris Holmes, Marketing Manager
---
You may already know about aseptic beverage packaging and processing, but in case you are unfamiliar, we want to make you more aware of all its advantages compared to traditional packaging and processing approaches. Fact is, we are certain that you have seen aseptic packaging, been served something that was processed and packaged aseptically, and even used it in your own home. Our hope is that it is all of the above and that you are one of the many consumers or food service operators that love Orchard Splash™ Beverages — exclusively packed in aseptic packaging!
Think square or rectangle-shaped beverage packages instead of traditional round ones, such as bottles and cans. A revolutionary breakthrough, the aseptic process provides a superior finished product in a package that has tremendous cost-savings and environmental advantages versus PET, aluminum, glass, and other substrates. While growing, aseptic processing is not yet the leading format for beverage production.
More widely adopted internationally, in the United States you are much more likely to find (and have used) aseptic processed and packaged products from the soup/broth, kid's juice box and alternative milk aisles. Aseptic production is a wonderful method that creates a shelf-stable product with a long shelf life, requiring no refrigeration before being opened.
Let's Take a Closer Look at Aseptic
The aseptic process is a gentler sterilization process compared to hot-fill that helps preserve the look, taste and aroma of the fresh fruit raw materials that go into our fruit, juice, and tea-based beverages. Some of the primary advantages of the aseptic packaging process are:
Food Safety – the ultra-high temperature (UHT) sterilization process ensures that the food is safe from harmful bacteria.
Cleaner Label – sterilization process is so effective that preservatives do not need to be added.
Protection of Nutritional Content – the finished food product contains more nutrients due to less heat damage compared to finished products filled through other processes.
The aseptic manufacturing process itself is more innovative, efficient, and effective which results in finished packaged products with some awesome features as well:
Convenience – it is portable, light and can be made in so many shapes and sizes.
No Refrigeration Required – saves energy in the transportation and storage of the food product.
Low Packaging to Product Ratio – there is more than 90% food product to 10% package.
Storage Efficiency – brick shapes are more efficient to pack in bulk than cans or jars – think of all the extra space surrounding cans, bottles and other cylinder-shaped products that does not contain product.
We've come a long way — here's a quick timeline of aseptic processing and our role
Our company was founded in 1957 and early on demonstrated its interest in innovation and providing solutions by creating and launching Carbotrol®, the first juice-packed canned fruit in the US foodservice market. In 1997, the WH Leahy Company acquired Institutional Foods Packing and became Leahy-IFP. With this acquisition, we became a manufacturer of aseptic beverages, as well as an early adopter of this format and advocate for its utilization. And as strong proponents of this processing method, we are excited at the expanded role aseptic is playing today and committed to increasing awareness and usage of the format.
In late 50's, the food industry saw the advent of the use of paper-foil-plastic laminated containers called tetrahedron.
In 1962, when they began selling pasteurized milk and beverages in these containers, Tetra Pak, a Swedish company, introduced this container to the United States market.
In 1989, Leahy-IFP's partner, SIG (a Swiss company originally founded in 1853), entered the field of aseptic carton liquid packaging—this business grew significantly, and was later known as SIG Combibloc. Due to the large capital investments required to produce aseptic products, only two major companies make the materials and equipment for this process: Tetra Pak and SIG Combibloc.
In 1997, Leahy-IFP establishes Midwest aseptic manufacturing footprint.
In 2008, Leahy-IFP expands capabilities, opening West Coast aseptic manufacturing facility.
In 2017, Leahy-IFP further expands Midwest and West Coast aseptic manufacturing facilities, doubling capacity.
Today, we are further expanding our manufacturing footprint to fulfill increased demand.
---
Let's Break It On Down!
Aseptic processing is comprised of two innovative components – the packaging itself and the processing/filling equipment.
The Inside Story on Aseptic Packaging
It all starts with what goes into making the sleeves that, in turn, our products go into. Check out these videos to see how it all comes together and SIG gets it done.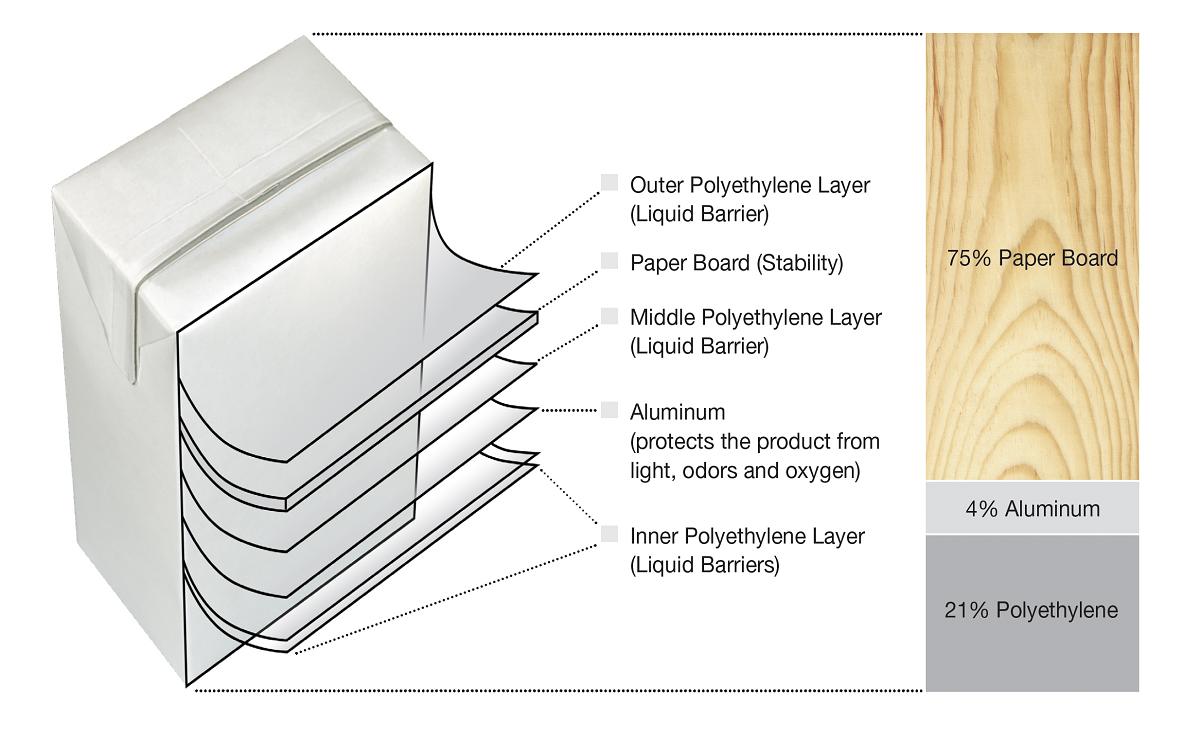 ---
The Equipment and Process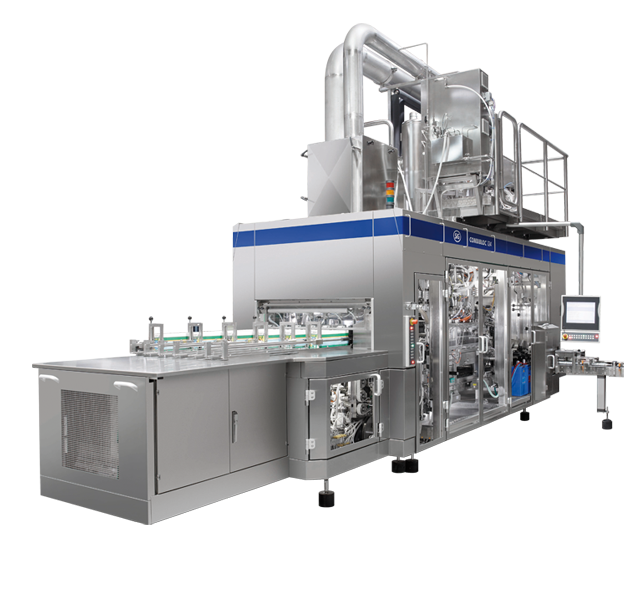 The aseptic processing allows for the liquid (or food) to be properly sterilized outside the container and then placed into a previously sterilized container, which is then sealed in a sterile environment.[1] Most systems use ultra-high temperature (UHT) sterilization to sterilize the food product before it is packaged. UHT sterilizes food at high temperatures usually above 135° C (275° F) for 1–2 seconds. This is advantageous because it allows for faster processing, usually a few seconds at high temperatures (130–150° C [266–275° F]) and better retention of sensory and nutritional characteristics.[1] Aseptic products have a non-refrigerated shelf-life of a few months to several years.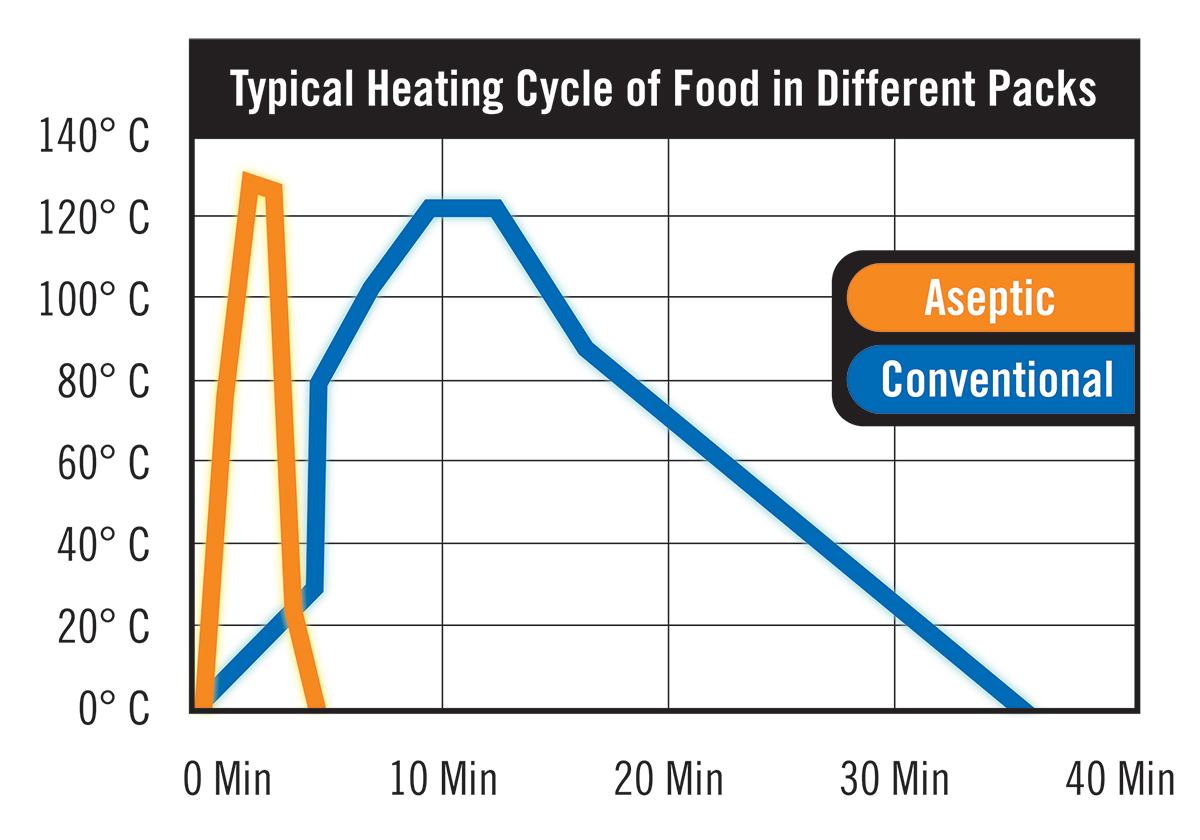 Stack It On Up – the Environmental Benefits are Clear!
Our aseptic formats are made with responsible materials and are eco-friendly, just look at the facts:
Lower Environmental Impact by Design
All materials in our cartons can be recyclable, and there is a market for reusing the materials to make new products.
Low Carbon Footprint
Our cartons are made from 70-80% liquid packaging board, a bio-based and renewable wood material. One of our 1000L Aseptic Cartons requires 224kg of CO2, where 1000L of glass requires 609kg of CO2.
Life Cycle Assessment
A recent environmental lifecycle assessment has found that single-use beverage cartons compare favorably with reusable glass bottles – and outperform single-use PET bottles. Source: https://bioplasticsnews.com/2019/08/14/lca-carton-glass-pet/
Space Efficient
The efficient shape of our cartons means less wasted space. A trailer of filled carton packs carry around 95% content with just 5% of space taken up by packaging. In the past 20 years, we've cut the weight of our cartons by more than 23%.

---
What's Next in Aseptic?
Our recently launched All Friends Beverage Infusions line is packed in SIG's Signature Pack and is a great example of our efforts, in collaboration with SIG, to advance more sustainable and plant-based packaging. All Friends' packaging is made up of over 90% forest-based renewable materials and can be fully recycled – the first and only of its kind in foodservice in the United States. Thanks to this plant-based packaging, we are also able to reduce our CO2 emissions.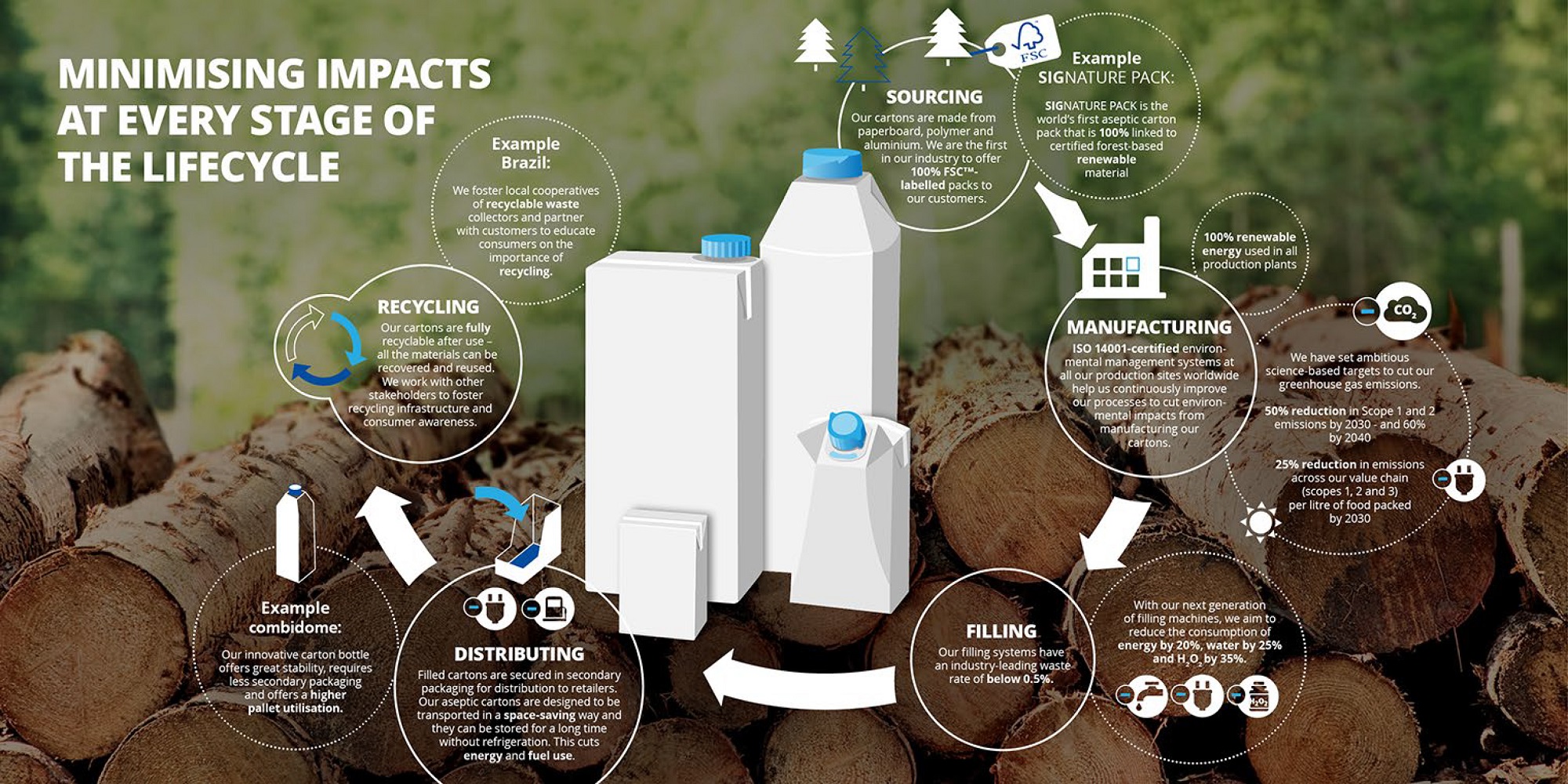 Source: https://www.sig.biz/ja/responsibility/responsible-products
All Friends Beverage Infusions are refreshing, delicious and nutritious juice- and tea-based 3×1 concentrates that deliver amazing functional boosting components. The perfect extension for QSR, fast-casual, and college and university foodservice beverage programs, All Friends Beverage Infusions provide greater flexibility and profitability, and a more environmentally responsible packaging solution.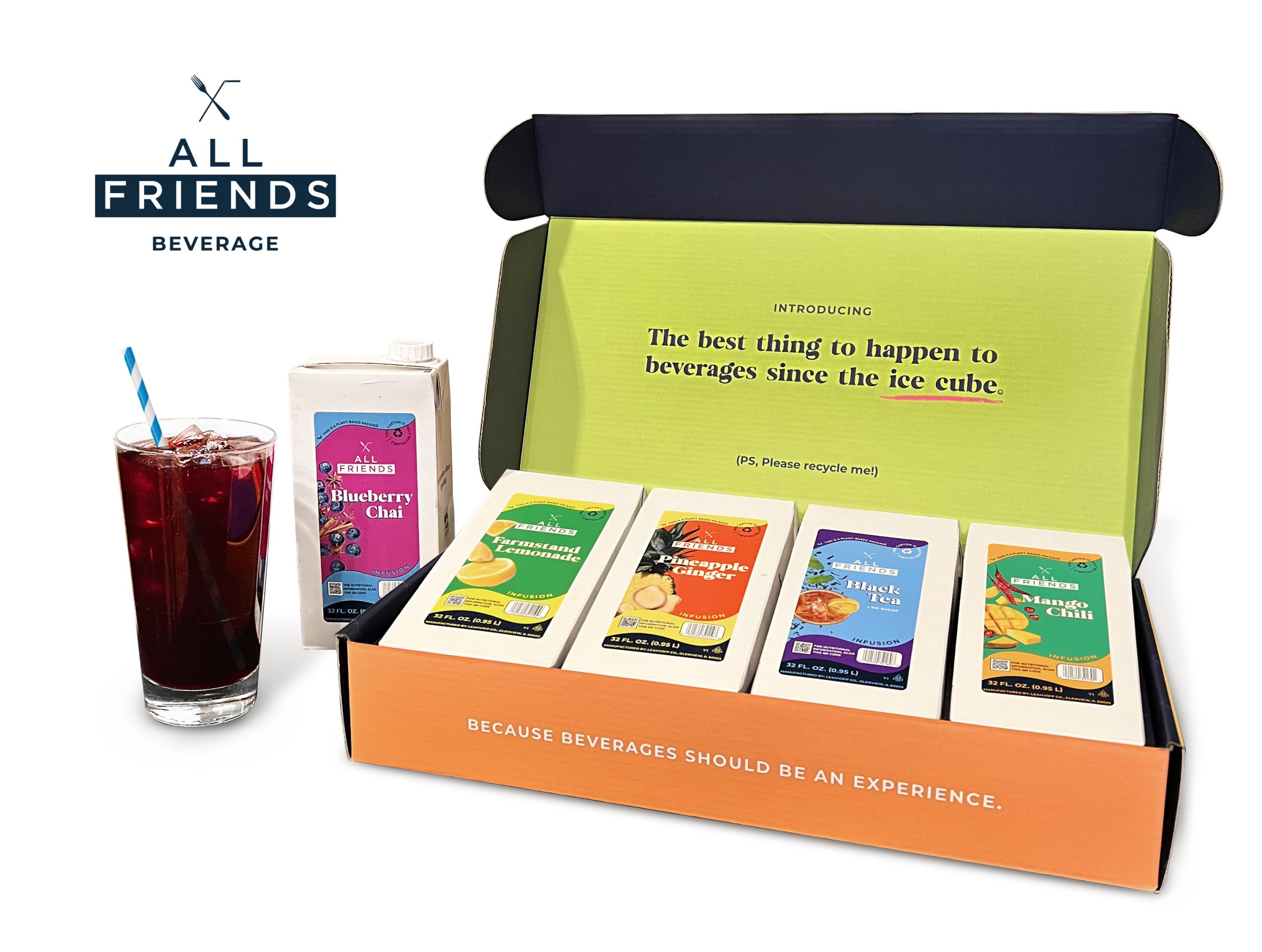 Leahy-IFP is committed to being a leader in the adoption and greater utilization of aseptic packaging and more sustainable packaging solutions across the entire food chain.
For more information on our aseptic packaging solutions, products and services, or All Friends Beverage Infusions, please click here — we'd love to hear from you.